Blog
How and Where to Find Diverse Candidates in Tech
May 25, 2021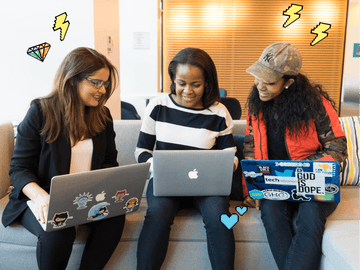 Our Co-Founder, Dóra, posed the ever-returning question of how to find diverse candidates in tech on LinkedIn a few weeks ago. She shared the topic after she was (yet again) asked if she can recommend female developers for jobs in the tech industry. While the running joke is that anyone asking should just be patient as imagiCoders will be ripe for the job market in 5-10 years, the reality is that diversity in tech and hiring female developers is a challenge for companies due to the existing gender gap in the technology industry and academic institutions. 
The topic is close to many people's hearts in our community, as Dóra received incredible input from peers & advisors. We would like to share these resources with you in case you are one of many looking to hire diverse and/or female engineers and developers at your company.
Platforms and resources to reach diverse candidates shared on LinkedIn, listed in no particular order:
Women in Tech https://women-in-tech.net/
Women are Tech's most untapped resource. Not only is creating diverse teams ethical, and will drive more economic growth, but future proofing the job opportunities of women will ensure sustainable communities worldwide. Women in Tech is a global movement of people fighting for gender equality in STEM. We create impact through action to build skills and confidence, setting women up for success. Because when women rise, we all rise.
Unicornia Collective https://www.unicorniacollective.com/
A job portal that brings together our growing community of tech-savvy female and non-binary members with companies that understand the importance of diversity in the industry.
SheCanCode https://shecancode.io/
SheCanCode is on a mission to close the Tech Gender Gap. We help women to enter, remain, and excel in the tech industry. We help companies to attract and hire a more diverse workforce.
Women in DevOps https://www.womenindevops.com/
Our aim is to help close the DevOps gender gap, and inspire the future leaders of the DevOps world. Our unique platform has become a global movement and is used to not only amplify the voices of women but of all minority groups within DevOps, to break down the barriers and drive positive change.
50inTech https://www.50intech.com/
Meet ambitious women in tech. 50inTech matches women in tech with their allies to achieve more inclusivity in tech.
Code First Girls https://codefirstgirls.org.uk/companies/
Increasing the proportion of women in tech through education and community. Connecting companies to talent.
Women Who Code https://www.womenwhocode.com/
The largest and most active community of technical women in the world.
Black in Tech Berlin Germany https://blackintechberlin.com/
A community for the underrepresented in Berlin Tech
Women in AI & Robotics Germany https://www.womeninairobotics.de/
A network of experts and professionals in Artificial Intelligence & Robotics, working towards gender-inclusive, ethical, and responsible solutions that benefit society.Our mission is to close the gender gap in AI & Robotics and increase female representation and participation through mentorship, education, hackathons, and accelerator programs. We are a German non-profit organization headquartered in Munich.
Jobs 4 Refugees Germany https://www.jobs4refugees.org/
We connect refugees and companies
Pink Programming Facebook Group
Our goal is to get more women to program - all women-identified, whether they are girls, aunts, ladies, cis or trans. This group is of course also open to those who do not identify themselves as women but because of gender identity does not feel represented among programmers.
Genvaules https://genvalues.com/
Find tech teams and jobs that share your values
TechTree https://techtree.dev/
A mentoring, networking and community building platform for devs designed to break bias in tech.

TechnoLatinas Community
RecruitU Sweden https://recruitu.se/
We Exist Sweden https://www.weexist.se/
Companies and organizations mentioned working to close the gender gap by educating future female engineers: 
Finally, a few thoughts from Ulrika Sultan on best practices for recruiting women engineers: "Hmm, where to begin? Inclusively written ads, making sure to reach out and support women engineering students whilst still at university. Have a conscious inclusive work environment - the word will spread. This might be an obvious one: Recruit women for their skills and not as a "diversity project". This will change the way we recruit and keep women in tech/stem/engineering. We all want to feel like we belong, a natural need as humans."
If you made it to the end of this article and are still curious to learn more, we also recommend reading the Empowering Guide for Women in Tech in 2022! 
Photo by Christina @ wocintechchat.com on Unsplash