Blog
5 successful female entrepreneurs who are teenagers
Mar 08, 2021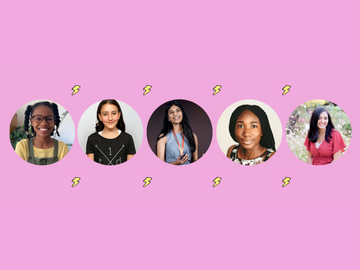 With all the efforts the world is putting towards empowering women in business, you're probably wondering what percent of entrepreneurs are female. According to women's entrepreneurship statistics, 40% of entrepreneurs in the US are women and 36% of small businesses globally are female owned. This number is as low as 10% in the Middle East.
In the context of an environment where there is still room for improvement on representation, you may have the question on how one becomes a successful business woman, or how to become one yourself. Without further ado, we would like to present a list of successful female entrepreneurs to inspire you by example. Fun fact: these young women reached their success very early. More specifically, they started their own businesses as teenagers.
Age she started: 16
Business Industry: Tech
Business: SmartCane 
The story: Riya found an opportunity to revolutionize the design of the white cane to help the visually impaired community around the world. She believes change in tech isn't being distributed equally and wants to change that. She invented the SmartCane, a cane that uses ultrasonic sensors to distinguish obstacles and notify the user - a much smarter device than the 100 year old white cane. When asked what her ultimate goal is, Riya responds that she wants to become a "unicorn person". "Instead of [building] a company that has a valuation of a billion dollars, it's the person that can impact a billion people".
Age she started: 10
Business Industry: Health & Beauty 
Business: BeYOUtiful

The story: Just like many girls her age, Hannah really enjoyed the trending bath bombs. On one of her trips to her favourite store, her family challenged her to create her own line. Ever since, Hannah has run a successful business of handmade, natural health and beauty products. Growing up with Type 1 Diabetes and Celiac disease, Hannah actively donates money from her business. The company gives away 20% from every sale to a Diabetes Research Fund. 

Age she started: 11
Business Industry: Media
Business: Fuzia

The story: It all began with a small writing club. The club grew into Riya's idea to create a website to connect young women through creativity. She called it "Fuzia", which means "fusion of cultures through empowerment of young women". The platform has over 5,000 users, 3 million followers on social media and has influenced over 5 million followers globally in 8 years.


Age she started: 10
Business Industry: Education & Tech
Business: Girls Into Coding

The story: Avye started coding and attending computing workshops from the age of 7. Having noticed that most of the workshops were attended by boys, she decided to encourage other girls to get into STEM. With her mother, Avye established a Community Interest Company that engages girls in educational events and activities to ensure a higher participation of girls and women in STEM.

Age she started: 17
Business Industry: Education
Business: OpportuniMe

The story: Miracle, author of the book "Purpose: How to Live and Lead with Impact", saw an opportunity for a startup that helps high school students decide on their career, build their network and develop their passions before they enter university. Miracle established a company that provides experiential learning and enrichment opportunities. She supports youth with professional development outside the classroom to help them form a real-world perspective.
Sources: 
https://whattobecome.com/blog/women-entrepreneurs-statistics/