Blog
8 best free coding games for beginners
Mar 16, 2021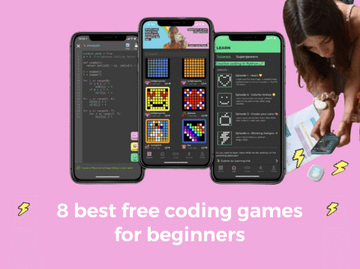 Whether or not you're stuck in quarantine, there's a high likelihood you are living the "new normal" with more learning and working and entertainment happening online. You may be working remotely, having more "alone time" and wondering what's the best game or educational resource to make good use of your time. 
Perhaps, you are thinking of picking up coding with your kids or students, but still want to keep the process entertaining? Maybe, you are wondering: "Are there games that teach you coding?" Good news, there are plenty of games and fun online learning that teach you to code for free. The following list of 8 free fun coding games for beginners will come to the rescue. Feel free to use these yourself or introduce them to your children or students. 
1. Code Combat

Check out this video game that teaches you software programming basics and coding itself.
Recommended age: 9-16
Why this game: you will learn software programming basics in multiple languages: JavaScript, Python, HTML and CoffeeScript.
How it works: prove your knowledge in writing code in order to advance to the next level. You can play both in single and multiplayer.


2. Scratch

Scratch is a visual programming language based on blocks, as well as an online community that teaches coding.
Recommended age: 8-16
Why this game: Scratch doesn't have only one game, which makes it a good reason to explore. Their website is widely popular, with an estimated 38 million monthly visits. While there isn't a specific game we recommend, there are a variety of games you can pick to fit your interest.
How it works: log unto the website and try out one of the many games available.


3. Code Monster

Code Monster is an interactive tutorial by Crunchzilla.
Recommended age: 8-12
Why this game: this is an interactive game that allows for instant gratification, which makes the game appealing.
How it works: the game will prompt you for immediate action through which you get to learn Javascript coding.


4. Blockly Games

This is a simple game that can be played on mobile or desktop.
Recommended age: 8-16 (kids with no programming experience)
Why this game: this is a good start for beginners, the block-based programming lessons help prepare kids for text-based coding.
How it works: click on the website link, choose a game you're interested in and start learning.


5. Tynker

This game will teach you how to make games and programs using block-based (Scratch) and text-based programming.
Recommended age: 5-18
Why this game: the site has more than one game, which are widely popular. Their curriculum has been used by 60 million kids worldwide.
How it works: check out their website to choose a solution that works for you, as there are multiple games and courses offered for different ages.


6. Codemoji

This platform provides a variety of learning opportunities via their adaptable learning approach.
Recommended age: 7-13
Why this game: you will have the opportunity to learn the basics of coding (HTML, CSS, Javascript) and web development. This will enable you to create your own websites and animations. 
How it works: avail of their free trial to see if this is the perfect game for you.


7. imagi

Don't forget to check out our offering too! We offer a way to explore your creativity and see your code come to life, through the imagi app and an imagiCharm device.
Recommended age: 9-16
Why this game: the free and user-friendly app will help you gain coding superpowers through interactive tutorials and fun challenges, and introduce you to a community of girls shaping the future with tech. By writing code in a language called Python, you will be able to create projects displaying anything from your name to an emoji expressing your mood. You can then share your creations with the rest of the community, as well as get inspired by other users' projects!
How it works: download this game for free on the App Store/Google Play and if you want to see your code come to life, you can order an imagiCharm, a smart device you can wear as an accessory on your backpack or keychain. 
Unruly Splats are programmable floor buttons that students code using an iPad or Chromebook to tell Splats when to light up, make sounds, or collect points when they are stomped on. Using block-based coding, students code the rules to create games like whack-a-mole, relay races, and dance competitions. We also offer a virtual platform that doesn't require physical Splats. 
Why this game: Splats are a great way to add movement and collaboration to any existing STEM lesson through game creation and play. For example, if you are teaching probability in your Math class, students can play a game like whack-a-mole and calculate the probability that the mole will appear on a certain Splat. 
Enjoyed the list? Follow us on our socials for similar tips and ways we work to positively shape the future of technology.
Written by Victoria Blinova
3 comments