Blog
5 Tips for Teaching Coding to Kids with imagi
Mar 17, 2023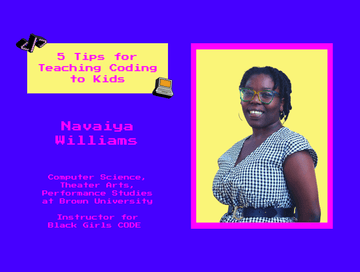 As a Computer Science, Theater Arts and Performance Studies major from Brown University and an instructor for Black Girls CODE, Navaiya Williams shares her best tips for getting started teaching coding with imagi Edu! 
Navaiya Williams began teaching coding to middle school students using imagi as an instructor with Black Girls CODE, an organization imagi is proud to partner with. Already familiar with coding languages and passionate about the intersection of technology and art, Navaiya discovered the Black Girls CODE program through a friend. After her experience as a coding teacher at a summer camp in New York City, an afterschool program at an independent middle school in Rhode Island, and at a Boys and Girls Club, Navaiya shares some of her best tips for teaching coding using imagi.
1. Print out your imagi student access codes for a smoother first day! 
It may seem like a simple task, but having the student access codes ready to go on the first day can help things run more smoothly and allow for more learning time when students know exactly how to access the imagi Edu platform.
Not sure where to find or print the access codes? Check out this step-by-step guide to help you set up your class to prepare to teach coding on your first day.
2. Leverage the imagi learning content like slides and worksheets and make them your own. 
While not new to teaching coding, Navaiya was new to teaching Python, so the teaching slides available in the imagi Edu platform helped her prepare for the lessons and guide instruction. Because she taught for an hour and a half each week, Navaiya liked to break up the slides into smaller lessons to better meet the needs of her students. While all teaching content has suggested teacher notes, they are also editable, so don't don't hesitate to make them your own. 
3
.
Review vocabulary and past content before teaching a new coding lesson. 
Regardless of how far they got in the lessons the previous week, Navaiya felt that reviewing  vocabulary they learned previously helped cement concepts for her students. Looking for a list of all vocabulary used in imagi lessons? Check out the Terminology Explained section of the imagi Learning Center.
4. Leverage the imagiCharm for engagement and as a check for understanding. 

To ensure that students understood foundational coding concepts in the first few lessons, Navaiya recommends having students focus on coding their designs on the imagi Edu platform or app first before handing out imagiCharms. As the lessons progressed, however, students really began to see the imagiCharms as a tool for their own learning, so she was able to incorporate them regularly into the full lesson as a fun supplement and a way for them to turn abstract concepts into a tangible representation of their work.
imagiCharms were also helpful as a check for understanding when teaching coding. Once completing their designs, students could hold the Charms in the air, and Navaiya could immediately see who had mastered the concept or who needed more support.
5. Build in coding extension activities or movement breaks as needed.
Teaching coding can be a lot of fun with imagi, but it can also require patience and focus for students to understand new concepts. Navaiya recommends incorporating quick YouTube videos as a brain break to expose students to a role model in STEAM, a career that involves coding, or even a movement activity (blink rate dance break anyone?) to get oxygen flowing to the brain. Code.org, for example, has a fun activity called "Getting Loopy" to help kids learn about loops through repetitive movements in dance. 
With these key learnings, Navaiya said she was able to create a very positive teaching and learning experience with imagi, and classes seemed to fly by. Even though she often worked with students at the end of a long school day, she shared that many of her students would get lost in coding with her. "Wait, that was it? It's over?" they asked at the end of each lesson. Here at imagi, we're grateful to Navaiya for all she does to support her young coders, despite having a busy schedule as a college student herself!
Inspired by Navaiya's tips? You can sign-up for imagi Edu to help you begin teaching coding to your students today!
About Navaiya Williams
Ciao! My name is Navaiya, and I'm a second year at Brown double-concentrating in Computer Science and Theater Arts and Performance Studies. If you can't tell by my two fields of interest, I firmly believe that the boundaries between art and technology do not exist! In fact, whether it's in either of the two theater boards I sit on, the scene shop I work at, the (choreo)robotics lab I do research for, the schools I teach in, or the stages I perform/direct on, the work I do is always dedicated to intentional and innovative design, creative problem-solving, and/or, plain and simple, art.