Blog
An internship with imagiLabs: 6 months of design and research
Jun 24, 2021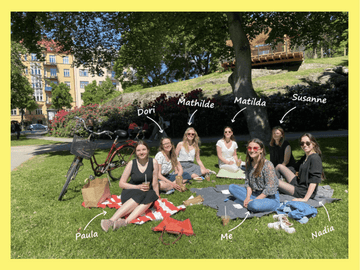 Written by Pepi Nedkova. 
I began my six-month journey as a UX Design and Master Thesis Intern with imagiLabs in February 2021.

In the beginning, I was mostly working on app design. One of the most interesting tasks I worked on was the design of the Mystery Quest, a tutorial which was the first to teach animation in the iOS app's learning journey. What I liked most was the freedom I was given to choose content, and the chance be creative while getting valuable feedback at the same time. 
From March to June, the focus of my internship was on my thesis. The topic of my research changed a few times, but in the end, I explored how friendship influences collaboration in a storytelling-motivated programming experience. I designed a collaborative experience for girls, in which participants had to create a story and then solve programming tasks related to the elements of their stories.
Working on my thesis involved a lot of work: reviewing existing literature, looking for participants (not easy at all), conducting the research workshops, and of course, writing a lengthy paper. And while sometimes I felt quite tired, I was motivated because I loved my topic and its various aspects, which were all of interest to me. Besides exploring how friends collaborate, it also included learning a lot about how storytelling can be used to motivate programming, how gender stereotypes influence the way young girls engage with technology, and even how hackathons (which are often male-dominated) can become more inclusive.
While the scope of my research was too small to make any generalizable conclusions, according to the results, friends feel comfortable collaborating with a friend and expressing their ideas. Task allocation was found to support productive collaboration, while if one of the participants was dominating, this impeded productive collaboration. Additionally, I came up with some ideas about how imagiLabs can integrate storytelling to engage users and how the imagiLabs can become more welcoming to friends. So hopefully, more friend groups among girls can share the view that programming is powerful and exciting, so they feel included in the field and more confident about their coding skills at a young age.

imagiLabs supported me a lot during the work for my thesis with materials, space to conduct my research, and help with finding participants. Here is where I would like to give a shout-out to Beatrice (Co-Founder and CTO), who would listen to explanations about all the challenges I had and support me not only as a manager but also as a friend. 

The atmosphere, the team, and the office of imagiLabs made a great start for me--one that I could not even imagine. And I strongly believe that this company will continue to empower more and more girls to discover how cool programming is!