Blog
Why Freelancing is a Solid Career for Programmers
Jun 15, 2021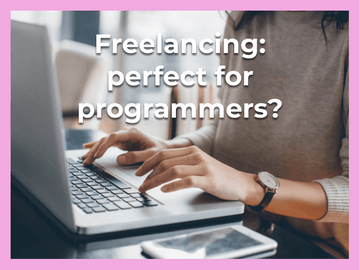 Written by Rimuut team.

Today's labor market is characterized by job-hopping. The average worker in the US has ~10 jobs before turning 40, and anywhere from ~12-15 on average in their lifetime (Bureau of Labor Statistics). There are several reasons for this, including globalization and fast-changing technologies, as well as the rising desire for greater independence and time.
Give that reality, what is freelancing and why is it popular? People who work for themselves are called freelancers. For many, it is no longer just a "side hustle" anymore. This career structure isn't simply some fad, rather it is slowly becoming the future of employment with estimations that nearly half of the workforce will be freelancing by 2027 - this includes the ever-rising opportunities for freelance programmers.
The 2019 Freelancing in America report shows that, given the exponential growth in the Gen Z workforce, freelancing has become a "long-term career choice for an increasingly diverse group." Furthermore, according to new LinkedIn data women are more likely to apply for many different roles, including remote positions. Companies like imagiLabs are further driving inclusivity and diversity by creating software to teach young girls to code, where they can learn flexibly, programming at their own pace!

Technology is transforming careers. 
 
It's a fact that technology is rapidly changing industries and job requirements. Hoffman, the co-founder and CEO of social network site LinkedIn, and Casnocha's book The Startup Of You, talk about the ever-changing skill set needed to succeed in an ever-changing world of work. The goal shouldn't be to identify your passion, but to master the numerous discrete skills you'll need throughout your career. An example, given the rise in technology, is the ability to code.

Why is freelancing the most exciting career option for new generation programmers? Working to your own schedule is every creative person's desire. Here are the three main reasons why freelancing is an ideal option for coders:
1) Freelancing offers a more fun and flexible lifestyle.

The freedom to choose the jobs and lengths you work makes freelancing the preferred method of employment. The work doesn't involve depending on supervisors. While working as a freelancer, you have the time to avoid hectic schedules and get more freedom in completing your activities. This flexibility extends to location - a freelancer can work from anywhere globally, whether it be in the comfort of your home or on holiday, allowing for a more balanced lifestyle.
2) Digital technologies make the life of freelancers easier.
Hundreds of platforms are set up every day to facilitate the life of a freelancer. . Many new platforms and organizations in the digital ecosystem facilitate the lives of freelancers. For example, on platforms such as Rimuut, freelancers can easily invoice their clients and receive payments without starting a company. Or, through insurance companies such as SafetyWing, "digital nomads" can make their health insurance flexible.
3) A freelancing career can be very rewarding.

In the global economy, most people have turned to freelance - especially within the Computer Science / IT industries. According to CNBC, jobs like network and system administration, data visualization, machine learning, database administration, and software development are some of the highest-paying and most in-demand freelance roles. Career Karma claims that the average freelance web developer charges $60 per hour, and the average entry-level coding salary is $58,000 per year. It thus boasts the perks of increased flexibility as well as being well compensated.
If you are ready to use your programming skills, check out how to start freelancing!