Blog
How to teach coding to students with imagiLabs!
May 11, 2021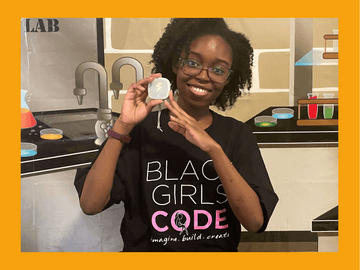 Spotlight on Black Girls CODE x imagiLabs Partnership
Testimonials from Code Club participants, Brandie Wright, and Pearl Sanchez.  
Teaching coding to kids takes a village, and we are so proud to highlight the achievements of students at Dozier Middle School and their educators! 6-8th grade girls at this Virginia public school learned how to program in Python, thanks to incredible Black Girls CODE instructors, volunteers, and imagiLabs resources! Our coding curriculum and imagiCharms helped bring code to life. 
"OMG!! I cannot believe it has only been 6 weeks since we first started learning about coding! Though there were a few complicated things, you guys inspired us to move on and keep on pushing. By learning how to code, there are many opportunities job-wise for us to succeed. Thank you to all the directors (Ms. Marquita, Ms. Mo, and Ms. Amber!!). Thanks goes to all the volunteers as well who helped us when we were confused! More importantly, thank you Ms. Wright and Dozier for even giving us this AMAZING opportunity! I will miss everybody from the bottom of my heart! Coding Buddies Forever!" - Cheri 

"I really loved this club! I loved creating things on the imagiCharm." - Makenzie
Students were able to showcase their learning continuously through the imagiLabs app's sharing feature, and they also presented projects to their Code Club at the finale of their 6-week-long program. After the club, 67% of learners rated their own coding skills as "intermediate" and one even as "expert"! 
imagiLabs' co-founders initially helped prep Black Girls CODE instructors with a custom teacher training workshop. For both educators and students, our lesson plans were "easy to use and follow along with." Teaching coding to kids online can be tricky without proper structure and pacing, however, Dozier's Code Clubs were successful because of small groups of 7 students each, with set instructors for the full duration of the program. Diverse ability levels were matched this way, and "no student was left behind." Plus, the imagiTeam used Discord to support partner instructors on a more informal, consistent basis.
It is awesome that our platform and content have now been used to teach coding in high schools, middle schools, and primary schools in both Europe and the U.S.! We are always looking for new partnerships around the world to equip more girls with imagiLabs' fun coding education toolkit.