Blog
How Mother's Day is Celebrated Worldwide
May 06, 2021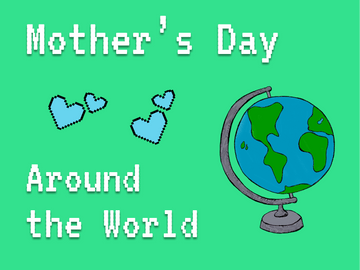 Featuring quotes from imagiGirls!
Mother's day 2021 falls on various dates, depending on country and culture, but is certainly an international phenomenon! Our imagiGirls are from several corners of the globe and celebrate traditions in unique ways. We went and learned about how they honor some of the women in their lives on this special day.
🇮🇳 India
Saumya: "In my country, we don't do something that particular but, usually on that day something sweet is made by us [children] for our mother. The most common sweet dish which rocks every festival here is Kheer. It is made of milk, sugar, and rice. It is a traditional dish, which we make here when something great is happening."
🇬🇧 UK
Katy-Rose: "Normally, we make my mom pancakes and she has breakfast in bed and we just have a very chill day. That usually includes us watching movies or shows together!"
🇸🇪 Sweden
Sigrid: "We do not usually celebrate Mother's Day very much. But we celebrate in the morning as a birthday or so. You go in and sing and maybe you gift a package, which you probably made yourself or bought. Mom usually gets something good to eat for breakfast--which everyone in the family already prepared. It can be a regular breakfast or maybe you make some pancakes or bake bread."
🇺🇸 US 
Tara: "Sometimes my family will go out to dinner or I will write a card for my mom."
Ananya: "I'll always make a card and try to get cheesecake for my mom :)"
Kavya: "I cook for my mom (something she hasn't tried before) or take her out on a mother-daughter date."
Looks like lots of good food tends to be involved! What do you do on Mother's day? 
And if you, dear reader, are a mother… Happy Mother's Day from all of us at imagiLabs!!! 💖