Blog
imagi's 2022 recap ✨
Dec 30, 2022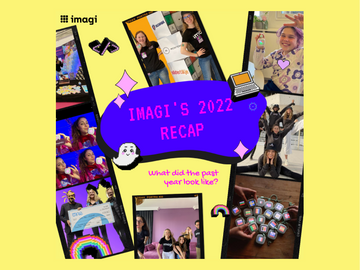 We find that reflecting on the year is a great tool for reminding us to stay grateful, hopeful and motivated. 🙏 At imagi, one of our core values is creativity, so it only makes sense that we make our annual recap visual, unconventional and full of small details. And if you know us, you rightfully expect it to be filled with emojis as well. 🙌
• This year, more than 20,000 imagi coders in 99 countries were busy creating with the imagi coding game. 📱
• In the summer we launched imagi Edu, our tool for educators to bring creative Python coding to all students. 400+ educators from 53 countries joined imagi's family in just a few months. 👩‍🏫
• One of our big highlight this year was seeing the imagi coding game installed on the demo iPhones and iPads in Apple Stores globally. So far with your help we have visual proof from the US, UK, Mexico, Sweden, the UAE, Hungary and Romania - but looking forward to hear from you if you see it somewhere else  👀
• 1800+ original submissions were sent in across 24 coding challenges in 2022. 🌟 
Space exploration, Pride Month, and the Month of Giving were some of the most popular challenges.
Another core value of ours is bravery. We are continuously blown away by the courage educators have to embark teaching programming even if they don't have extensive knowledge in the field. 
"The fifth grade girls LOVE imagi and some are moving at an incredible pace -- way ahead of me. The charm definitely is an added bonus as they see their work come to life." - Said an imagi teacher from Ashley Hall, truly exemplifying this bravery. 
Finally, a third value of imagi is inclusion. We have as always worked to make our community a safe space for coders to express their identities fully and proudly. This year, we've seen an increased number of LGBTQ+ and diversity and inclusion projects across our community and hope to further expand imagi's inclusivity in the new year.
We thank you for being a supporter and we hope you continue being part of our journey!