Blog
Interview with imagiMentor Natalie
Feb 04, 2020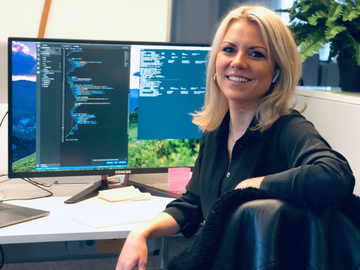 At imagiLabs we collaborate with a lot of people. The ones who help us and our users out a bit extra are called imagiMentors. Today we are sharing a few details about our imagiMentor Natalie, who works at SVT in Stockholm. Natalie is a great example of how you should follow your heart and do what motivates and inspires you every day. 
A fun fact about you
I dropped out of university to start a company in VR. After that journey I moved to New York and became a web developer. I also collect old blue china.
What does your typical day look like?
Working in a developer experience team is quite diverse. A typical day can involve everything from building a new feature at the mobbstation (coding together as a team) to viewing other teams demos, write documentation, planning for future work and supporting developers with whatever need they have, usually regarding DevOps. Our team is like the spider in the web, with broad insight on our platforms and what's going on in the tech organization.
What got you initially interested in tech?
I have always loved to solve problems and fixing things that are broken. At University, while studying media and communication, we had a short lesson in HTML. I loved the idea of being able to build websites, the creative part and the practical use of it. After the lesson I started to spend my evenings learning basic web development with HTML and CSS. Some years after I moved from Stockholm to New York and started a Front-end online course at Udacity. This is where I learned JavaScript and my professional developer journey began.
What do you enjoy most about your job? What motivates you to come to work?
I love to work in a large organization with very skilled people in different fields, working together for a common goal where everyone supports each other to learn and grow, both as a team and individually. At SVT we have an autonomy culture where we are encouraged to test and make changes where we see possibilities for improvements. I am passionate about women in tech and collaboration, so me and a college organised a group where we get together, women who work with tech at SVT, to share knowledge, discuss and get to know each other better. Learning and collaboration are my main motivations. It's also very cool to work with products used by millions of people. My belief that public service is more important than ever makes it even more motivating. 
What's the one area you'd like to grow in that you currently find challenging? 
Being self taught, I sometimes lack the computer science knowledge. But I learn by working and doing. There's no one right path to get into development, and I believe diversity is very important to build skilled teams, not just in gender, age, nationality, but also with educational background.
What advice would you give to teenage girls thinking about pursuing a career in tech?
Ask a lot of questions, I can't stress this enough. I ask questions all of the time in my work. Being a developer is always to learn new technologies and skills. You will never be done learning as a developer.
Can you share your tips on how to successfully reach your goals? 
Don't be scared and don't overthink. I have a goal to become a better public speaker, so I have set a rule for myself to say yes before overthink it.When it comes to technology you don't have to be exactly sure about what technology you are interested in, start with something and don't give up. The hardest part is usually in the beginning, but don't give up. I started with frontend and then when you start working, or studying you will learn so much and find your right path.