Blog
Our week of PRAO at imagiLabs
Dec 09, 2019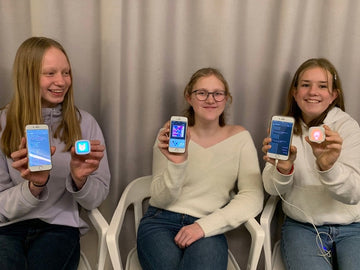 Hedvig (to the right of Dora):
Hello! My name is Hedvig and I'm fifteen years old. I'm from Järfälla, a suburb of Stockholm. In my spare time, I like to do Brazilian Jiu-Jitsu, go out into the woods, hang out with my friends and code with the imagiLabs app.
Evelina (between Hedvig and Matilda):
Hey! My name is Evelina, but everyone calls me Evve. I'm fifteen years old and I live in Järfälla. I have a horse, which I ride in my free time and I also enjoy watching Netflix and hanging out with my friends.
Matilda (far right):
Hi! My name is Matilda and I am fifteen years old. I am from Järfälla. I really enjoy running outdoors and spending time with friends and family.
What is PRAO?
In case you're not Swedish and wondering what PRAO is, it's a program that provides middle school students with the opportunity to spend one to three weeks working with companies in their city. This was imagiLabs' third time hosting Prao interns!
Tell us about your experience this week!
We found imagiLabs because Hedvig is an ambassador for them. She has been working with them for about a year now and she was able to get us a PRAO placement here. We spent the entirety of this week at ImagiLabs for our PRAO. This means that we have been experiencing what it is like working there, by spending time at their office and learning about their company. We have done lots of things this week, such as giving presentations about social media and recording small video clips for the website. We have of course also been coding a lot using the imagiCharm, which has been a lot of fun.
I (Matilda) have really been enjoying the amount of coding we have learnt this week since Python is not something that they teach at our school. This experience did not just teach us a lot about coding, as we also got to learn a whole bunch about what it is like creating apps, planning workshops, writing blog posts and how the process in which the imagiCharm is manufactured works. The team has been very welcoming, nice and helpful throughout the whole week, making this a very fun and exciting experience. After everything I have learnt, the opportunity to spend my week of PRAO here has really changed my perception of coding, as I have not been learning it before. Even though we only spent 5 days at the office, I would definitely like to learn more about coding in the future after this experience. In other words, this week has been really fun!
I (Evve) think that being at imagiLabs for PRAO has been really fun! I like the atmosphere there because everyone is so kind and helpful. It's really interesting to see how it is, working in an office. Before I came to imagiLabs I didn't like coding that much, but being there and learning how to code through the app and the team made me like coding. I didn't know how much you could create using it and I think that it's really interesting learning how coding works. I will definitely buy the imagiCharm and code more in the future.
Because I (Hedvig) am an ambassador for imagiLabs, a lot of the coding we have been doing this week hasn't been anything new to me. When I attend meetups at the office we always do a lot of coding through advanced workshops and we often discuss our opinions on social media. The thing that has been most exciting for me this week is to see what a normal workday looks like for the team and doing more mundane tasks than we do at the meetups. We have been giving presentations on our favourite apps and social media accounts to help the team see how they could interpret that in their website and on the imagiLabs social media. This has been really fun to do because it feels like a thing you would do when you work in a team! It has also been fun to introduce Matilda and Evelina to this amazing world of coding and it seems like they have enjoyed it :)
If you had to summarize this week at imagiLabs using three words, which words would you use?
Matilda: Interesting, exciting and inspiring.
Evve: Fun, fascinating and surprising.
Hedvig: Delightful, fun and exciting.
The article was written by Hedvig, Evelina and Matilda.