Blog
Why just girls?
Nov 13, 2019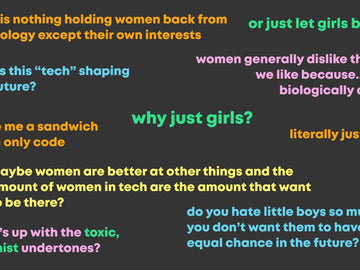 On building chairs for girls to join the tech table
A few months ago, a well-known brand filmed a short feature about the work that we've been doing at imagiLabs, focused on teaching girls how to code. This video was then shared to the brand's Facebook page, which has a whopping following of about 50 million people. Along with almost half a million views, our video racked several mixed reactions in the comment section.
A common one was "Why just girls?"
This question has also popped up on our social media channels, in pitches to investors and conversations with friends. It's a question that I myself have asked. What we're doing at imagiLabs is awesome, so why not try to reach as many people as possible and make a product with both girls and boys in mind? This is going to sound counter-intuitive, but here it goes: imagiLabs' mission is not to teach coding. This is indeed an important part of what we do, however it is a means to an end. Our mission is to empower and inspire girls to pursue careers in tech, a field that we currently represent only 18% of.
We are not here to create a product limited to girls, we are here to expand tech to include more girls. And our first attempt at that is the imagiCharm. It's a keychain accessory that can display various designs through code written in the app that it comes paired with. These designs and the code behind them can then be shared in the app itself, allowing users to collaborate and learn from each other. It's been developed throughout years of research and testing with girls, finding out why current products don't appeal to them and how they want to learn to code. The imagiCharm is built to fit into their daily lives. It's built to inspire them and bring them together. And it's built to be used and loved by them.
"The programming life just isn't for girls" was another opinion voiced in the comment section of that video. According to this comment, the "programming life" consists of clanking away at your keyboard for hours on end with zero human interaction. This is something I was told when I decided to pursue Computer Science in high school. This is something I saw in movies and sitcoms. Admittedly, I'm an introvert so that all sounded pretty appealing. However, after just a few summer internships and a year in the industry since graduation, I can assure you that's not the case. Sure, we do clank away at our keyboards for quite a bit, but in order to have a successful career in tech, you have to be able to do more than that. You have to be able to share your thoughts and skills with others. You have to come up with creative solutions. And this is a huge part of what we are trying to show girls through the imagiCharm.
We don't know if we've cracked the code to increasing the number of women in tech. At least, not yet. Researchers, developers, and recruiters have spent years debating over what exactly is causing these low numbers and how to address them. We don't claim to know any better than them. What we do know is that we have a lot to bring to the table. When there weren't enough chairs, we brought our own. And after having spent some time sitting there, we've come to realize that as women, we have shared experiences that we want reflected in tomorrow's innovations. We have problems that we want addressed. And we don't want to be just consumers, we want to be makers. We want to be shapers. We want to be innovators. And that's why, at imagiLabs, we are building chairs for 12 to 16-year-old girls, hoping they will one day go on to sit at the head of the table. 
At the core of it all, we have a shared goal, and we're figuring out how to make it happen. We know there's a problem, and we're passionate about finding a solution. If anything I wrote above made you nod your head, or you just want a front-row seat to our journey, please consider backing our imagiCharm Kickstarter.
Thanks to Dora Palfi, Beatrice Ionascu, and Jihyun Kim.
This article was written by Paula Dozsa, Co-Founder & Lead Developer at imagiLabs