Blog
10 Christmas Gift Ideas for Tween Girls
Oct 18, 2021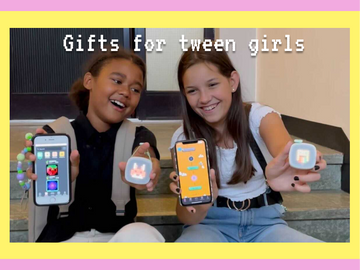 Are you looking for Christmas present ideas for kids? As experts in the interests of girls + non-binary kids ages 8-13, we got you! With the holiday season arriving, good gifts for kids become parents' top priority. Whether you are looking for tech toys, sustainable everyday products, or creative games, we prepared a comprehensive list of gifts for preteens. 

Teens and tweens love to express their thoughts. This LED Lightbox will allow them to highlight something in a fun way! It is definitely one of the best gifts for kids over 10. It can also help kids practice grammar and spelling at home. 

Instax cameras will help your child take memorable Christmas pictures and instantly store them in their room. They come in different colors, too! Film photography gifts are loved by children and adults alike.

Does your teen love sustainability? Solar powered speakers are the best tech gift for kids and families who are into renewable energy. It is a portable Bluetooth speaker which can help keep the whole family entertained in any setting. 

Looking for good Christmas presents for teen girls who like fashion and design? It also happens to be the best STEM gift for kids: the imagiCharm! You will introduce your child to the world of coding with this fun accessory. It is also the best tech gift for boys -- because let's be honest -- who doesn't love colorful electronics? The imagiCharm is paired with a free phone app for use, and that alone is a great free christmas present for kids! 

Does your teen love technology? This night-light + Bluetooth speaker will brighten their room and help youngsters sleep to the rhythms of their favorite singer or favorite Spotify podcast. It is also an outdoor speaker that can be taken on picnics.

One type of unique toy for kids is a DIY activity set. These are artsy gifts for kids to make something of their own. This Squishy Set will unleash your child's imagination, and can be a great gift for kids who like manga.

Does your child have a best friend or an idol? You can offer them this fun accessory -- a cursive name necklace with their name to carry wherever they go and keep the person they love most close to their heart.  

"What is a tamagotchi?" -- someone young might ask... Explain that it is a handheld digital pet that was created in Japan, and it became one of the most popular toys for kids in the early 2000s! If your child wants a pet but you don't have the time or energy for a real creature, get them a digital one that can keep them company!

Do you care about the environment? Do you want to offer your kids a Christmas present they can use everyday? A biodegradable phone case from Panda Blossoms is a truly useful, cool sustainable gift for teens. 


Do your kids love making things with their hands? Do they want to be able to make a beanie, knit a scarf, or even knit gloves? Creativity for kids offers the Quick Knit Loom pack which is a top DIY Christmas gift for daughters and sons who want to start knitting.