Blog
12 Inspiring Black Female Software Developers
Feb 08, 2022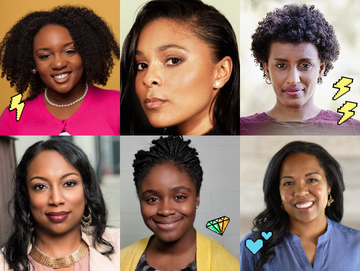 For Black History Month this February 2022, our team wanted to share a list of some of the most inspiring women programmers alive today. In North America and in Europe, the Tech industry severely lacks Black/diaspora female representation. This post features some of the most exciting developers to watch (from very different fields), as well as notable advocates for POC in Tech and famous designers. 
Rediet Abebe is an Ethiopian computer scientist working in algorithms and artificial intelligence. She and Timnit Gebru founded the renowned global community Black in AI. Now Abebe continues research around data and social inequality, among other topics, at UC Berkeley. Follow her if you love AI for social good!
Taylor Poindexter is an Engineering Manager at Spotify and a Co-Founder of the growing East-Coast based blkCodeCollective. Follow her if you are active on Twitter. She is appropriately named @engineering_bae! 
Angie Jones is the Global VP of Developer Relations for Block's decentralized finance division, TBD54566975. She has patented 26 inventions in the areas of metaverses, collaboration software, social networking, smarter planet, and software development processes. Check out her website if you want to learn about blockchain technology! 
Kesha Williams is an AWS Machine Learning Hero with over 2 decades of software engineering and leadership experience in architecting, designing, and building enterprise applications. She has won many awards and is now educating others. Follow her if you're interested in cloud technologies!
An AI specialist from UC Berkeley, Deborah is a Fellow at the Mozilla Foundation and the Founder + Director of Project Include. Follow her if you're interested in learning about biases in machine learning algorithms (and how to combat them)!
Dr. Korin Reid
Dr. Reid is a Forbes "30 Under 30" Science awardee and is an AI innovator who has created groundbreaking solutions in the field of healthcare and bioenergy. Today she is the CEO of Ellison Labs and a Data Science lecturer. Check her out if you are curious about machine learning or chemical engineering! 
Originally a biologist, Allie Joy is now a recruiter, expert people connector, and founder of a growing global community advancing Black and Brown women in tech. Follow the Instagram of BaddiesinTech to get inspired, or, if you are a WOC do join this network and learn about important resources here!
Erika Hairston is the CEO of Edlyft, a YC-backed tech startup focused on supporting the next generation of CS students. She recently earned Forbes' "30 Under 30" title for Education. As an app creator herself who has always focused on expanding access to resources, follow Erika if you care about mentorship and startups!
Kristy is now the Head of Product Design at Netflix and she has worked at Slack, Meta, and ideo previously. As a donor of Black Girls CODE and the founder of a Detroit water utilities non-profit, Kristy prioritizes social impact. Follow her if you want a role model who works at a major corporation while committing to doing social good on the side!
Betelhem is a young technology education entrepreneur from Ethiopia. She is the founder and CEO of Anyone Can Code, which is in partnership with iCOG Labs, an Ethiopian research and development company with a focus on Artificial Intelligence. Through extracurricular programs, Betelhem and her colleagues teach students the basics of coding and robotics. 
Other awesome tech business leaders to follow:
Taitt is the Founder and CEO of Poppy Seed Health – a platform transforming the way we care for pregnant and postpartum people with 24/7 text access to doulas, midwives and nurses.
Spencer is the Founder and CEO of kweliTV, a streaming platform that celebrates global black culture through curated, undiscovered and award-winning indie films, documentaries, web series, children's programming and events.
✨ ✨ Also: check out these West African women at a forefront of fintech.
⭐️⭐️ Finally: this is an awesome list of 200 Black Women in Tech to follow on Twitter!