Blog
Day in the Life of a Coder Girl: Singapore + Japan
Aug 27, 2021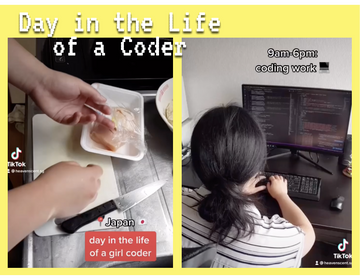 We are doing a fun cultural exchange with friends over at Saturday Kids in Asia! Check out these informative videos (featuring delicious food) made by female coders, detailing their daily life.    
Weekend day in the life of a coder girl: Singapore edition
9 am: reading a book while eating breakfast -- a bowl of cereal
Morning: coding project, play with brothers, play with robots
Lunchtime: eat some veggies and rice
Afternoon: do some homework, then do some coding and research interesting project ideas, and take a break with fun animations
Dinner: enjoy roast pork!
Nighttime: computer gaming with brothers :)
Weekday in the life of a female (professional) coder: Japan edition
6 am: breakfast of fried rice, chicken, eggs, scallions... while eating, check work email
7:30am: head to subway for morning commute
9am: start workday --> coding all day!
Lunch: out with co-workers at a restaurant
Dinnertime: food shopping at grocery store
** and on days off: helping as a volunteer at the Olympics!!!