Blog
Learn to code pixel art with your bestie this Galentine's Day!
Feb 12, 2022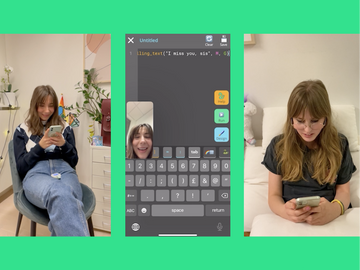 imagi app - the pixel art maker for Apple SharePlay
Galentine's Day is all about celebrating the special bond you have with your besties! 💕 What better way to show how much you care about them than showing them the most fun way to create cute pixel art, straight from your phone? 🎨
The imagi app turns learning how to code into a colorful and social coding game! This Galentine's Day (and beyond!), we have made it very easy for you to code together with your friends, on both iPhones and iPads! 📲
Using the "Code with a friend" feature in the imagi app, you can now create cool pixel art with one or more friends. You can help each other out, show each other your best coding tricks, and most importantly, share the joy of creating! ✨
Does your best friend live in a different city, or country? This feature is available over FaceTime, which means that you can code with friends all over the world, using Apple SharePlay. 🗺
In order to start coding together, you'll have to:
Install the imagi app from the App Store and sign up!

Join a FaceTime call with one or more of your friends.

Head to the Create tab in the app 

Tap the "Code with a friend" button. Your friends will then be invited to join your coding session! 📱✨📱
You can see this experience in action by checking out the video below, where two of our very skilled imagiCoders, Eleonora (whom you might recognize from TikTok, as @elle.pyc ⭐️) and Louva, code via Apple SharePlay. Are you more comfortable with Swedish? Then you can watch them coding in Swedish here.
Do you think you're ready to try this out yourself and create your first heart pixel art now? You can get started right away by just getting our app and FaceTiming a friend.
Don't forget to save your work and share it with our community by publishing it! 🙏🏻
❗️Please note that this feature is currently only available on iOS devices running on at least iOS 15.1, as it is powered by SharePlay.