Blog
What happens after your hardware product gets funded on Kickstarter
Oct 23, 2020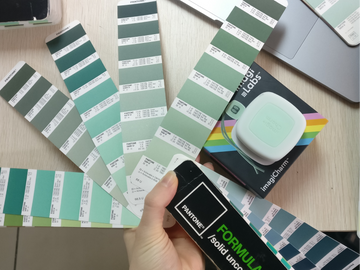 Our imagiCharm Kickstarter campaign was not an instant success. It didn't get funded on the first day, or the second one, like some of the Kickstarter success stories we had been researching while preparing our campaign. It finally reached its funding goal with 15 hours to go after 30 days of continuous teamwork promoting the campaign, refining how we explain our product and tell our story, understanding our customer, and exhausting our networks. But it happened. The campaign finally got funded on the last day and we were thrilled. Over 600 customers were now eagerly waiting for their imagiCharms. All we had left to do was bring this product to life and fulfil the hundreds of orders.
In this post, I detail how we were able to fulfil the hardware aspects of our promise to our Kickstarter backers. My hope is to show how much work went into delivering on our funded Kickstarter and show that this is doable—even for first-timers like us. I will give a high-level summary of the eleven months that followed the end of the campaign and share some of our learnings throughout this process.
Originally, we had set out to deliver our backers' early bird rewards by Christmas and the rest in January, meaning within 6-7 months from the end of the campaign. This timeline incorporated knowledge and lead times from similar hardware startups. Tooling? One to two months. Component lead times? Between zero and hundreds of days. Producing 2000 units? A few days. Shipping by air? A week. Shipping by boat? One to one and a half months. Of course, this timeline was ambitious and it assumed that everything would go smoothly. If running the Kickstarter campaign can be compared to a sprint, the almost year-long process that followed was more like a marathon, with a "minor" blip along the way consisting of a worldwide pandemic.
June: Campaign month
Kickstarter has an all-or-nothing funding model, which means that you have to meet or exceed your funding goal by the deadline set when launching the campaign to receive any of the funds from your backers. Because of this, we carefully set a funding goal that, according to our estimates at the time, could cover most if not all of our upfront manufacturing costs. We ran a 30-day campaign, based both on Kickstarter and other people's recommendations. On June 27 we hit the goal of the campaign and with the money raised, we were in a better position to negotiate with manufacturers.

July: Request for quote (RFQ) period
We had started asking for introductions to manufacturers through our networks in the months preceding the campaign. However, given the uncertainty regarding the success of our campaign and our lack of previous experience launching a hardware product, the conversations with the manufacturers hadn't gone very far. In July, with both funding and preorders on our side, we picked up the conversations.
We started discussing quotes and timelines, and as we got more detailed design for manufacturing (DFM) feedback, we started incorporating it into the electrical and mechanical design of the imagiCharm. During this time we were also introduced to new manufacturers, including the one who would end up producing our imagiCharms. This last introduction came through the Hardware Club, a community that has been invaluable for us in our journey as a hardware startup.
August: Choosing the right contract manufacturer
Our main criteria for choosing a contract manufacturer (CM) included having experience with similar products (both in terms of complexity and order size), being interested in helping us launch a quality product, and being willing to contribute their expertise towards improving the design of our product, challenging our decisions, and giving us feedback. Communication and transparency were also important. From our shortlist of potential CMs, one satisfied all of these criteria.
In August, we finalised the first version of the mechanical and electrical design of the imagiCharm. It included modifications from the original concept that would improve the manufacturability as well as the usability of the product: simplified inner plastic housing and separate silicone casing, channels to hold the string for the imagiCharm, and a more water-resistant charging port.
September: First visit to the manufacturer
It's difficult to establish a business relationship over Skype. As both our first and second CM choices were based in Shenzhen, a trip to China to meet the manufacturers in-person was needed before signing. We were almost certain that we were going to work with Gadget Lab, our first choice. Given our tight timeline, we took the trip to confirm this decision and to review the first prototypes. Boris, our hardware engineer, joined me.
We spent a full day discussing changes that would need to be made to the electrical, mechanical, and packaging designs. In order to reduce complexity and cost, we had to drop some features we had invested a lot of effort and resources in, like water-resistance. Being in the same room with Gadget Lab allowed us to make several decisions on the spot. Over email, Skype, and WeChat these would have otherwise taken days, if not weeks.
October: Tooling stage
In Shenzhen, we realized that given the pending design changes and our limited resources, we would not be able to stick to our original manufacturing timeline. We agreed on a new timeline according to which the imagiCharms would be ready by March, three months later than promised. Our backers were the first to know about the change. Throughout the campaign we always kept our backers up to date with our progress and also involved them in some parts of the decision-making process, like choosing the color of the imagiCharm. We recommend fellow crowdfunding startups to involve backers even more if possible.

Overall, in October, we were kept busy revising the electrical design and finalising the mechanical design. Once the mechanical design was finalized, our CM's chosen plastic factory built the injection moulding tool, a process that took six to seven weeks to complete.

November: Finalize electrical design
In November, we finalised the electrical design, confirmed all the component suppliers, and the bill of material (BOM) costs. We had chosen Gadget Lab as our manufacturing partner because they are an original design manufacturer (ODM). This means that their team of experienced engineers and manufacturing experts supports the development of new products, starting with the design phase. They have their own network of factories and acted as a one-stop-shop, helping us with all stages of product development. 

Although one of the advantages of working with a one-stop-shop is not having to worry about sourcing components, I recommend talking to suppliers directly when possible. By going directly to the source, we received better prices, enabling us to negotiate lower prices with our manufacturer.
After a few iterations and tests with our end users, we also settled on the final packaging design, including a first version of the packaging artwork. Testing the first prototype units was also a priority during this month. 
December: Firmware at last
The team working on the imagiCharm consisted of a product designer, a mechanical engineer, a hardware engineer, all part-time, and a team lead, myself, overseeing the manufacturing and sourcing process, monitoring the timeline, quality, and regulatory considerations, while also writing firmware. With a small team like ours, it was not always possible to work in parallel on all the required tasks.
In December, with the mechanical and electrical designs in place, we were able to shift our focus almost exclusively to the firmware, meaning the code running on the microprocessor inside the imagiCharm. With a last push during the holidays, we finally finished a v1 firmware for factory testing purposes and developed a factory testing app. We also developed the functionality test procedure for the factory to test each assembled unit.
January
:
Pre-production stage
During the pre-production stage we had a smaller batch of units produced to verify that the production setup and the resulting units accorded with our specifications. We had these units made for marketing and regulatory purposes, however the validation they provided was paramount for finding any remaining or unforeseen issues before starting mass production.
I can't emphasize enough the importance of the product team again being on the ground to review the results. This time only I went, which required very thorough preparation with our hardware and mechanical engineers to make sure I would not miss any details when reviewing the units. Being able to communicate right away with the rest of the team during the trip was also necessary. Thus, I recommend that multiple people participate in a similar trip, if possible, in order to split responsibilities and leverage each team member's expertise.

Besides reviewing all the produced parts and confirming the material and color of the imagiCharms' string, we also reviewed and adjusted the testing procedure that the factory would follow for both the pre-production and mass-production. By the end of the month, 60 pre-production units arrived in our office. Little did we know at the time that we had just pulled this through right before the onset of a pandemic.

February: Lab test stage
Another benefit of working with a one-stop-shop is that they have experience with the entire process, from design for manufacturing to factory selection to obtaining the required certifications. We were able to navigate the regulatory aspects through a combination of research on our end and their help.

In February, following the Lunar New Year holiday and the spike of COVID-19 spread in China, our manufacturing partner was able to slowly resume work. As testing laboratories reopened, we proceeded to start the laboratory testing needed for hardware certification. Meanwhile, we continued the firmware development work, thoroughly tested the pre-production units and created quality control guidelines to be used in mass-production.
March: Mass production
In March, after iterations of testing and bug-fixing, we finally signed off on the firmware. But over-the-air (OTA) firmware updates didn't make the cut. If there is one main takeaway from this post, it is to always start with OTA, if applicable. Being able to distribute firmware updates to a hardware product post launch is instrumental in being able to fix bugs, maintain the product, and ideally ship improvements and new features. As you will see below, we ended up adding this feature right before starting to fulfill our backers' rewards.
In this month we also finalized all the regulatory work and everything was finally in place for the imagiCharms to start production. While our manufacturing partner was busy with producing the parts, assembling and testing the units, our team started downscaling and focusing on the logistics and fulfillment.
The reality of a hardware startup is that the work comes in phases. With the product design and the mechanical and electrical engineering cycle now coming to an end, the day-to-day involvement of our product designer, mechanical engineer, and hardware engineer also ended temporarily. We are lucky to still have them on our team even though the months since March have been very quiet on this front.
April: Logistics
One significant flaw in our original timeline was not accounting for unforeseen events. The reality is that unforeseen events always happen. They can be as small as a wrong resistor value that needs to be changed last minute, or bigger, like an important component suddenly having longer lead times, or even bigger, like a world-wide pandemic wreaking havoc across most industries. With more experience, it's easier to account for such happenings, although I'm not sure that even the most experienced would fare better during a pandemic-stricken world.
In April, our first batch of 2000 imagiCharms was produced and passed quality control. We continued researching logistics and fulfilment options and arranged for 960 units to be sent to Sweden by plane. The remaining 1040 were sent by sea freight.

May: Fulfillment
We began our logistics and fulfilment research by looking into warehouses and third-party logistics solutions. Eventually we realised that we were getting ahead of ourselves. With the number of preorders that we had—just under 700—it would have ended up being very expensive to outsource our fulfilment. Doing so would have also removed an essential learning opportunity. A driving ethos throughout this process has been to do as much ourselves as we could to learn and build knowledge inside the company that can be used later on.
Finally, after several delays caused by COVID-19's strain on the supply chain and transport systems worldwide, our 960 imagiCharms arrived in Stockholm on May 11. We started fulfilling our backers' rewards on May 15. The four days in between were used to get a head-start on reprogramming the units and adding the missing OTA feature. Fun times…
---- 
Given the high-level nature of this post, a lot of the work we did couldn't make it into these paragraphs. Bringing the imagiCharms to life following our Kickstarter campaign was stressful and scary at times, but ultimately an educational and rewarding experience. We came out of it with not only our first 2000 imagiCharms but also infinite more knowledge and confidence to tackle future challenges, considering that at the beginning we had close to zero insight into what it means to create a hardware product, from R&D to manufacturing and to delivery.
The most important lesson we learned was to always keep our backers up to date with our progress. We posted regular updates on our imagiCharms and also shared what we were up to each month beyond the realm of our hardware progress. We have our backers to thank for even being able to attempt this journey in the first place, so we always felt compelled to keep them in the loop with the latest developments, regardless of whether they were positive or negative. I believe our open communication and active engagement are part of why our backers were very supportive when our timeline had to be extended and are extremely supportive to this day, continuing to provide feedback and suggestions.

During this time, our team was also very busy creating the accompanying iOS and Android apps for the imagiCharm, coming up with learning content, securing investments outside of Kickstarter, running coding workshops, and experimenting with digital marketing channels. In sum, we were doing everything we could to make sure that imagiLabs, as a startup, was successful and fulfilling our mission of getting more girls interested in coding. But we would need a lot more than a blog post to cover all of that.
Thank you for the editing work done by Melinda Szekeres.
This blog post was written by Beatrice Ionascu, Co-founder and CTO at imagiLabs.
1 comment