Blog
Organizations championing girls in STEM
Mar 13, 2022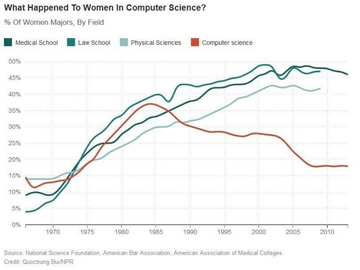 As they say, a rising tide raises all ships so we collected some of our favorite organizations that share imagi's goal of sparking young girls' interest in coding. These organizations' central mission is to get young girls interested in STEM, with several of them focusing on providing accessible education, including teaching how to code. (What does STEM stand for you ask? Science, technology, engineering, and mathematics.) Many of the below organizations offer free summer programs & other activities the younger age groups can get involved in. If you would like to help out in other ways, there are several options ranging from a simple share on social media to volunteering to donating. 
Why get involved? Look no further than this summary by Black Girls CODE that shines a light on why we at imagi and all organizations below continue to fight for more women in STEM – and why you should too!
Where: USA-based, programs are 100% virtual
Mission: close the gender gap in technology and to change the image of what a programmer looks like and does
Get involved: Start a coding club, take part in a summer immersion program or code at home with free computer science activities.
Where: Chapters in 15 US cities
Mission: build pathways for young women of color to embrace the current tech marketplace as builders and creators by introducing them to skills in computer programming and technology
Get involved: while Covid halted in-person events, you can contact your local chapter for ongoing programming, donate or volunteer to nurture #TechDivas and #FutureTechBosseses.
Where: select US cities and worldwide virtually
Mission: empower people of marginalized genders in tech with community, education, and inspiration
Get involved: registration is open ChickTech High School, workshop & mentorship opportunities for 9th – 12th grade students who identify as girls, non-binary, transgender, or gender-fluid. Workshop topics cover various STEM topics ranging from robotics to 3D printing.
Where: select US cities and virtually
Mission: create learning experiences and opportunities for young women that increase their confidence and inspire them to pursue their passions in a technology driven world.
Get involved: Apply to the free summer coding camp! No previous coding experience is a must and access to equipment is not necessary. Applications for 2022 summer will be opening shortly in early spring.
Where: Metropolitan DC area, USA, programs are 100% virtual
Mission: excite, inspire, create awareness and educate girls in grades 6 through 12 about the vast array of career opportunities in the fields of Science, Technology, Engineering and Math (STEM).
Get involved: Sign up tp GiT's email list to be the first to learn about their programs like the Scholarship Program or the Mentor Protege Program dedicated to help girls identify pathways to careers in STEM
Where: events in 700+ schools in several European countries
Mission: equip 50 000 schoolgirls aged 14-18 across Europe with digital and entrepreneurial skills by 2027 through an online learning program about the circular economy
Get involved: Start learning in the project's online learning platform, Circular Learning Space, dedicated to helping young people to improve their digital and entrepreneurial skills and come up with their own solution to societal and environmental challenges
Where: USA & Indonesia, virtual programs in 2022
Mission: help bridge the gender gap in STEM jobs through access to education, mentorship opportunities, and transformational leadership training.
Get involved: Apply to attend a WiSci Camp or become a WiSci partner and help bridge the gender gap in STEM
Where: UK
Mission: inspire and support young women and non-binary people in Science, Technology, Engineering and Maths careers
Get involved: browse & attend various free events for girls & young people ages 5 through high school and sign up to receive the Stemettes newsletter to stay updated with the latest from Stemettes HQ including events, activities, resources and fundraising actvities.
Where: Denmark
Mission: attract young women, between the ages of 13-18, into the fields of science, technology, engineering and math (STEM).
Get involved: join camps, hackathons & entrepreneurial training, mentor and inspire young women to choose an entrepreneurial or tech career or become a sponsor to use education to create awareness, excitement & opportunity for young people
Where: UK
Mission: Ignite a passion for technology, engineering and creativity for young girls in Cornwall and inspire the next generation of coders, engineers, video game designers, app developers, and digital artists.
Get involved: Explore the fantastic resources collected by TECGirls to help launch an exciting adventure in technology, engineering and creative digital exploration & read the free online magazine, Sandbox created for girls ages 6-12. It is packed with inspiration, stories, activities, and ideas for budding STEM girls.
GA Tech STEM

Where: Online

Mission: Attract young women into the fields of science, technology, engineering and math (STEM), and introduce STEM to girls looking to make a positive impact on the world at large.

Get involved: Explore the many resources produced by Georgia Tech on the field of STEM, career resources, entrepreneurship, digital literacy and more, and learn about their short course bootcamps that help people advance their skills or break into the field of engineering.

https://bootcamp.pe.gatech.edu/blog/how-to-empower-girls-in-stem/