Blog
6 best online coding games for kids in 2022
Feb 22, 2022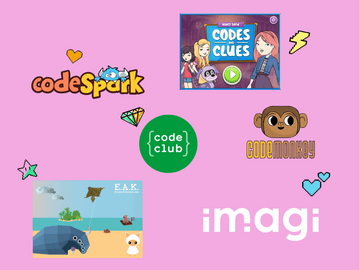 Last year we compiled our favorite coding games for beginners, and since this list proved to be helpful to many of you, we decided to share our selection of the best coding games again! This year's 'best of' list has several newcomers, and some repeat favorites we love & use ourselves. And of course, you will find a short introduction to our free coding app, imagi as well, in case you are new here. :) All of the games listed below have a free version, so you can get started without commitment. The only thing we hope you commit to is learning how to code!
Programming app for kids ages 5 and up
CodeSpark promises that kids won't even realize they are learning to code, and we proved this to be true when testing ourselves. The company's mission is to "help all kids learn to code by igniting their curiosity in computer science and turning programming into play." The CodeSpark app teaches kids 5 and up the foundations of computer science through puzzles, coding challenges, and creative tools. And you can get your kids started with a free trial!
Nancy Drew Codes and Clues Mystery Coding Game
Best for kids ages 5-8
Nancy Drew Codes and Clues made the list again! It is one of our favorite coding apps because it targets girls in the hopes of getting more females into coding - an important goal we share with the creators. The mystery unfolds as kids solve challenges using basic coding concepts in this gamified learning app. You can get started with the first chapter for free, then finish 6 chapters of mystery by purchasing them in the app one time for $3.99.
The revolutionary online game that introduces children to computational thinking and professional coding languages.
Erase All Kittens delivers on its promise and teaches kids coding concepts on desktop in a uniquely fun way. Part of the game is free, and we think it's an absolute must for any kid looking to explore the world of computer science at a young age. 
Make cool stuff while learning to code
Aiming to teach kids ages 9 to 13 how to code, Raspberry Pi Foundation created Code Club World to make Python, HTML & CSS approachable & easily understandable for any pre-teen. Similar to the imagiCharm, Code Club World lets kids express their creativity by allowing them to code their own character, design a t-shirt or create music while learning essential coding concepts.
Learn Python for free & express your creativity with code
One of its kind when it comes to allowing users to create by learning to code Python, the imagi app makes programming fun, creative and social. Kids learn to code for free with friends and can discover coding projects created by the imagi community around the world. Get started by trying others' coding projects for inspiration or code your own design while learning the basics of Python. When you're done, show off your creations on the imagiCharm :) 
Programming games for the next generation
CodeMonkey teaches kids how to code in a gaming environment geared towards beginners. With several courses to choose from, kids can learn real-world coding languages with text-based exercises. You can get started for free in their app or on desktop!