Blog
The easiest way to learn coding for kids
Apr 11, 2021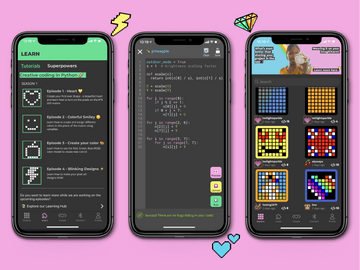 When setting out on the journey of getting more girls into tech, our goal was to solve the root of the gender gap problem by getting girls excited about programming at a young age. What will make it easy for girls to learn coding? Through interviewing several hundred girls between the ages of 9-15, our mission became clear when creating our approach to teaching kids how to code python: we needed to create an exciting & challenging app that allows teenagers to write real code & share their creativity with friends. 
Enter the world of the imagi app, a free programming tool available on iOS and Android. The latest iteration of our coding app is the most fun it's ever been - the imagiGhost takes you on a creative coding journey resulting in real-world Python coding skills and new friends in the imagiCoder community.
Gone are the days of having to learn how to code in a classroom or in front of a computer. Combining creativity, community & collaboration, the imagi app challenges you while on the go. Here are 5 reasons why we believe the imagi app is the easiest way to learn coding: 
Code on your phone - wherever you go! 📱



Not only are our phones one of the only items we never leave home without, they are also home to the imagi programming app. Which means your location or whether you have your desktop computer with you will never hold you back from learning how to code.




Create with code 🚀

As soon as you get started, you will be introduced to basic concepts of coding and encouraged to write real-world Python in the app. The imagiGhost is your guide on this coding journey, but you are the creator! You'll quickly be equipped with the power of code only to realize that the possibilities are endless.


Visualize the code 🌟



Did you recreate an emoji? Spelled out your name or coded a message to show up as scrolling text? Coded a heart to show your love for someone? Whatever you choose to create, you can immediately see the results in the app. This visual feature helps in making adjustments or if necessary, corrections to your code right away.




Share your creations 🌸

The imagi app teaches you how to program and lets you share what you created with your fresh skills. Not only are you able to share with the ever-growing community of imagiCoders and your friends, you can also load your designs onto your imagiCharm and wear them proudly! Even up to six different ones with the new Gallery feature.


Learn from others ⚡️

When you see a design you like that someone else created, check their code to see how they achieved it. There are no limitations to what you can create, and your coding peers can be an amazing source of inspiration. Your pixel art will inspire others too! Get creative with your code and challenge yourself and others at the same time.
Learning to code is no longer boring, and you certainly don't have to wait until you go to college to start learning Python!

Kids can learn coding in a fun way for free. Download the imagi coding app and see how much fun you can have with your friends, or make new friends by joining the imagiCoders! Follow the imagiGhost on a journey through each quest where you get to display what you built on the screen or on the imagiCharm. We challenge you to code your favorite spring flower to help celebrate the wonderful spring season we've all been looking forward to!